[Cynful] Clothing & Co. News! <3
Bend N Snap! Thats right girls
New things from Cynful <3
" If Loving Fashion is a Crime we plead guilty"
 
Cynthia & Angelina did a collab and designed the denim jumpsuit which is available in the [Cynful] Clothing & Co. Main Store.
The curvy, clean lines of this jumpsuit screams Chic, Modern & Stylish.
Life is too short to wear boring clothes bb's , this is a need and a must have for summer.
Check the booty yo! #DatAssTho.
Hud controlled , 20 different color tops. The top , belt & buckle are all texture change.
5 standard sizes, 5 curvy sizes & tango applier included.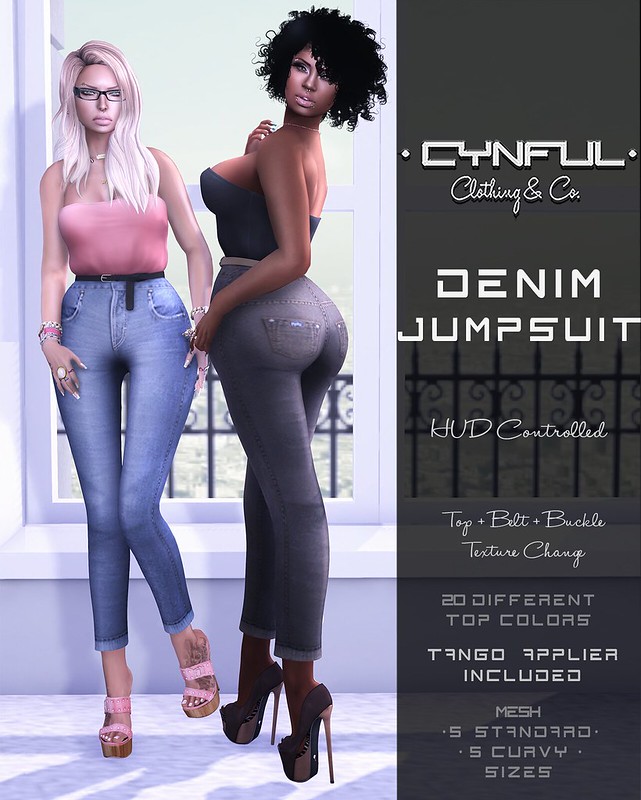 Saturday in the main store ONLY!
We always want to step out looking sexy and our best especially when it is just the girls!
Tease, flirt and dance the night away in this uber mini with sexy metal accessories on the straps!
HUD controlled to select the color for the metal rings, and we never forget our big-chested beautys,  Tango applier included
Another round of The Dressing Room Fusion.
Cynful brought us a design perfect for these summer months.
Grab a bright bold color or go the classic black or taupe either way you are sure to exude those sexy summer fun vibes when strutting around in this hot little number!
Tango Appliers here as well included!

Next is The Big Show, another favorite event !
[Cynful] created The Chainbelt dress in 8 colors.
This above the knee dress with a sassy chainbelt comes in 6 standard sizes, 2 cuteazz sizes + 2 phatazz sizes.
Time to get flirtatious & risque girls ..slip this little number on over your curves and get freaky!
And last we have a new round of The Dressing Room Fusion.
The [Cynful] Shimmy top is available in 3 ombre colors/ 2 ombre styles in each top.
Hud controlled and Tango applier included.
Did you know? Almost all  [Cynful] Clothing & Co Items (except current Event Items) are available on Marketplace – please click following banner to be forwarded:

Happy Shopping,
♥ Cyn